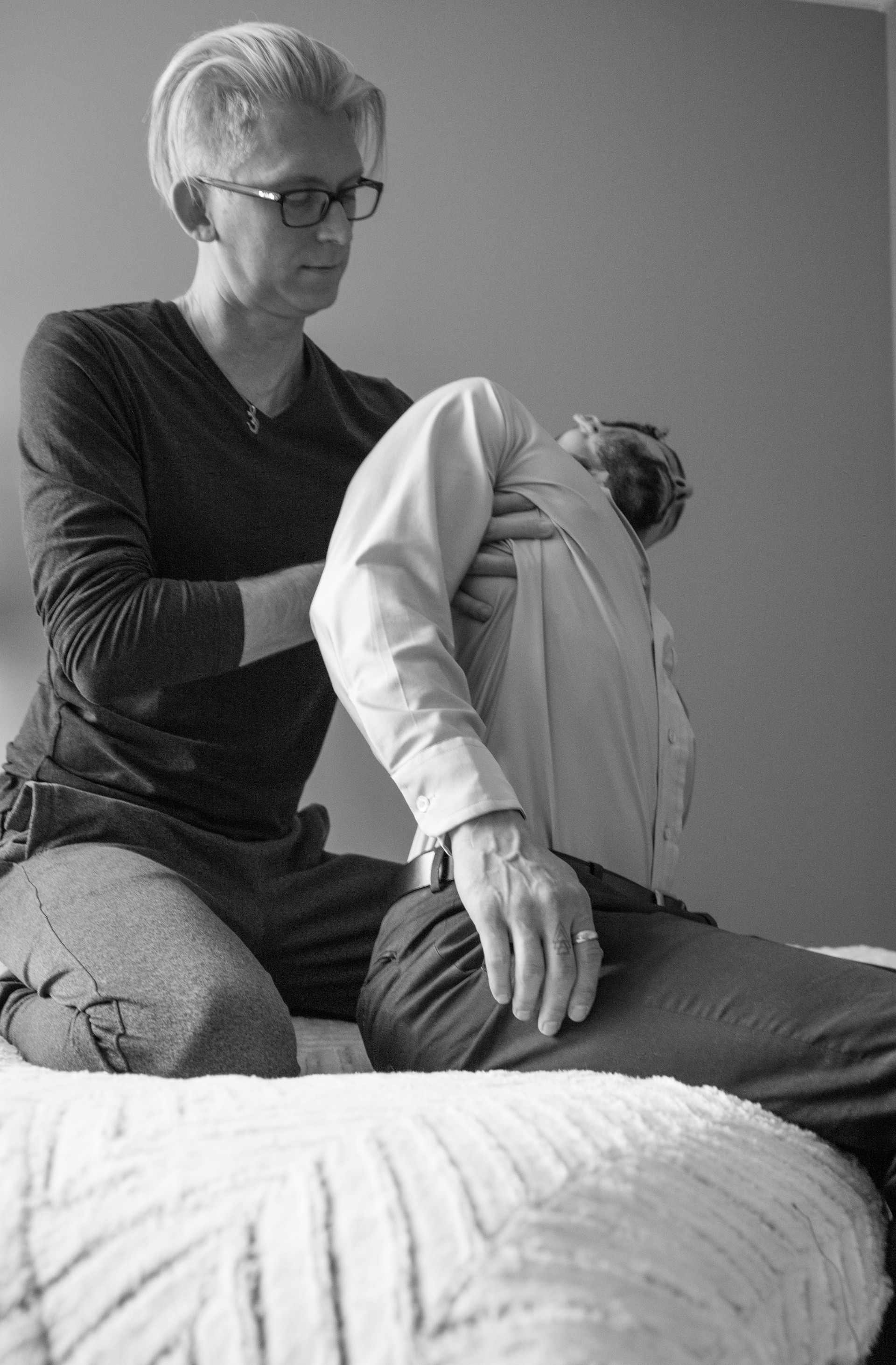 Because as a trained professional musician with a Doctor of Musical Arts degree in performance from the University of Cincinnati-College Conservatory of Music, Robert understands the emotional, physical, and sometimes spiritual challenges of a musical career.
He's suffered the pain brought on by years of misguided movement and empathizes with each and every student he's helped. This is what drives Robert's mission to alleviate the pain, prevent the injury, focus the mind and body, reduce performance anxiety, and lead anew movement to musical joy,
What to expect in a session
An exact treatment and approach varies from client to client. At the first session, a thorough intake is done to understand what is occurring both in any problemed areas, as well as one's overall health. After this assessment, treatment options may include wellness coaching, Bones for Life movements, Awareness Through Movement, and Functional Integration. The desired goals of the client largely drive the treatments and are vital to a positive outcome.
What clients are saying...
"I've been student of the vocal arts for over 25 years. My time working with Dr. Bozeman has benefited me tremendously. He is a skilled coach and a gifted musician with glorious insight into the way the body works while singing. He has helped me create sounds that I didn't know were possible and has given me a renewed confidence and composure in my performance." - Lacey Hunter, soprano, Louisville, Kentucky
"Robert's work has done an exuberant amount of healing within my body and spirit. His knowledge is beyond many others and certainly stands out with his unique approach to holistic healing through movement, focusing on how the musician moves and plays their instrument. His approach also offers a wide range of different techniques to suit the individual musician. He is truly a wonderful man, and I owe him many thank you's for helping me through rough times and lifting me up even higher in the good ones."
Morgan Ivory, Nashville, Tennessee
"Dr. Bozeman's body mapping sequence transformed the way my most advanced singers approach alignment. It gave them the physical context to understand how healthy singing is produced in relation to the body. I am anxious to see how they continue to use these steps and strategies for finding a better singing alignment, and therefore overall sound!" -
Phillip Jennings, Choral Director, Pleasure Ridge Park High School,
Louisville, Kentucky

"Exquisite musicality is what Robert displays in performance, and he has the unobtrusive technical mastery to fulfill both the structure and the profound emotion of what he plays. Further, Robert has gained the rare skill to generously articulate what he does so that others can improve both technically and musically." -Barbara Conable, Alexander Technique Teacher and creator of Andover Educators, New Haven, CT
"Dr. Bozeman's work with our students was truly extraordinary.
His work is important for all musicians and for all movers!"
Dr. Larry Bitensky, Music Program Chair, Centre College
"Working with Robert has helped my career tremendously. Not only has my public speaking voice improved, but I find that I am much more aware of the way I carry myself in a professional setting and more confident with my poise and presentation skills."
Erin Cooper, Kentucky Science Center